Client Configuration¶
The UI client stores its client configuration, also known as the front-end configuration, in bin/jeb-client.cfg. The configuration file is a key-value store where keys are fully-qualified identifiers that start with a leading dot.
The public keys can safely be changed by a user. They are accessible in the Options dialog, Advanced mode, panel Client.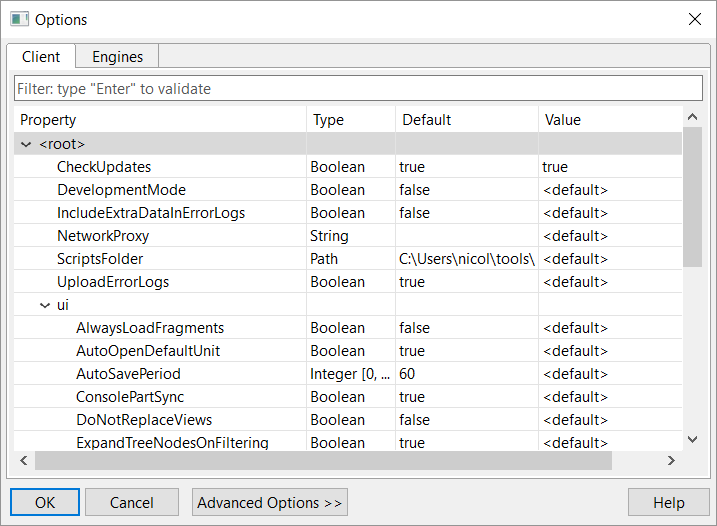 .CheckUpdates¶
Description: Let JEB automatically check for software updates (requires an Internet connection)
Type and Default: Boolean(true)
.DevelopmentMode¶
Description: Increase verbosity and error messages. Recommended when developing JEB Extensions (plugins or scripts).
Type and Default: Boolean(false)
.NetworkProxy¶
Description: Network proxy settings for JEB client components. The format of this property is: 'type|hostname|port|user|pass|whitelist'.
type can be direct (no proxy), http, or socks

hostname and port are mandatory for non-direct proxy types

user and password are optional (needed only if your proxy requires authentication)

whitelist is an optional list of domains/IPs (with support for the wildcard character *) for which no proxy connection should be used (always direct connect)
Type and Default: String("")
.ScriptsFolder¶
Description: Folder containing JEB client scripts written in Python
Type and Default: Path("$JEB_HOME/scripts")
.UploadErrorLogs¶
Description: Securely upload error logs to PNF Software error server
Type and Default: Boolean(true)
.ui.AlwaysLoadFragments¶
Description: Always load view fragments (leave to false to let lazy fragments load their data only they are visualized by the user)
Type and Default: Boolean(false)
.ui.AutoOpenDefaultUnit¶
Description: Upon processing a new file artifact, the default unit (internal rule set) will be opened - and the default fragment potentially opened as well
Type and Default: Boolean(true)
.ui.DoNotReplaceViews¶
Description: Create a new fragment when visualizing a type of document already opened in the workspace (instead of replacing it)
Type and Default: Boolean(true)
.ui.ExpandTreeNodesOnFiltering¶
Description: Expand matching tree nodes when applying a string filter
Type and Default: Boolean(true)
.ui.KeyboardShortcutsFile¶
Description: Location of the custom keyboard shortcuts file
Type and Default: Path("jeb-shortcuts.cfg")
.ui.LoggerMaxLength¶
Description: Maximum log buffer size in characters (older logger lines get discarded)
Type and Default: Integer(524288){0+}
.ui.ProjectUnitSync¶
Description: Keep the unit that generated the currently visualized item visible in the Project tree
Type and Default: Boolean(false)
.ui.ShowWarningNotificationsInStatus¶
Description: Show important notifications by flashing a Warning sign in the status bar
Type and Default: Boolean(true)
.ui.graphs.AutoGenerate¶
Description: Auto-generate the global graph upon processing a binary file
Type and Default: Boolean(false)
.ui.graphs.KeepInMainDock¶
Description: Keep the global graph docked in the main shell instead of being in a floating modeless dialog
Type and Default: Boolean(true)
.ui.graphs.LockView¶
Description: Lock the global graph: prevent auto-moving/sync'ing with the currently active method or code item
Type and Default: Boolean(false)
.ui.native.DisableTypePreparsing¶
Description: Disable native type pre-parsing (syntax validation) in type edition dialogs
Type and Default: Boolean(false)
.ui.state.MainShellBounds¶
Description: Bounds of the main shell. Leave blank for default; else: -1=maximized, or a set of "x,y,w,h" to remember position and size)
Type and Default: String("")
.ui.text.AllowLineWrapping¶
Description: Wrap overly long lines
Type and Default: Boolean(false)
.ui.text.CharactersPerLineMax¶
Description: Maximum number of characters per line before forcing a line-wrap (whether or not line wrapping is enabled)
Type and Default: Integer(4000){0+}
.ui.text.CharactersWrap¶
Description: Limit of a line before wrapping, if line wrap is enabled
Type and Default: Integer(-1)
.ui.text.DisplayEolAtEod¶
Description: Display an extra line at the end of a text document
Type and Default: Boolean(true)
.ui.text.NavigationBarPosition¶
Description: Position of the navigation bar: 1=top, 2=right (default), 3=bottom, 4=left
Type and Default: Integer(2){0-4}
.ui.text.ScrollLineSize¶
Description: Number of lines scrolled on a mouse-whell scroll action
Type and Default: Integer(2)
.ui.text.cfg.ShowAddresses¶
Description: Show addresses in control flow graph views
Type and Default: Boolean(false)
.ui.text.cfg.ShowBytesCount¶
Description: Show bytes in control flow graph views
Type and Default: Integer(0)
.ui.tree.BucketFlatMaxElements¶
Description: Maximum number of elements in a single artificial bucket
Type and Default: Integer(500){0+}
.ui.tree.BucketFlatThreshold¶
Description: Element count threshold that will trigger the creation of buckets in tree viewers with flat structures (eg, native code hierarchies)
Type and Default: Integer(2000){0+}
.ui.tree.BucketTreeMaxElements¶
Description: Maximum number of elements in a single artificial bucket
Type and Default: Integer(200){0+}
.ui.tree.BucketTreeThreshold¶
Description: Element count threshold that will trigger the creation of buckets in tree viewers with hierarchical structures (eg, Dalvik hierarchies)
Type and Default: Integer(200){0+}
.ui.tree.UseExplicitDefaultPackage¶
Description: Use a default package when artificial buckets in tree viewers are created
Type and Default: Boolean(true)