Client Configuration¶
The UI client stores its client configuration, also known as the front-end configuration, in bin/jeb-client.cfg. The cfg file is a key-value store where keys follow a dot-prefixed, dot-separated naming convention.
The public keys can safely be changed by a user. Those public keys are graphically visible in the Options dialog, Advanced mode, panel Client.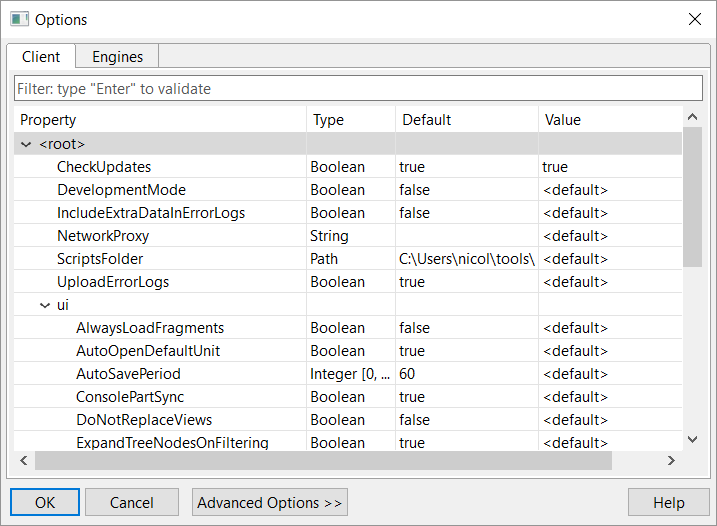 Most settings are self-explanatory. This section details settings that require additional details.
General¶
General configuration options are located in the anonymous namespace (.). Most are indirectly settable via the user-friendly Simple Options panel.
.CheckUpdates¶
Self-explanatory.
.DevelopmentMode¶
Self-explanatory.
.IncludeExtraDataInErrorLogs¶
Self-explanatory.
.NetworkProxy¶
Self-explanatory.
.ScriptsFolder¶
Self-explanatory.
.UploadErrorLogs¶
Determine whether the error log generated by JEB when an exception occurs is also uploaded to our server for further analysis and debugging. We recommend keeping this option true, as it allows us to fix problems transparently and rapidly. The log only contains user and license information, timestamp, and a stacktrace. If the option is false, the log is dumped inside the JEB folder. You may review it, edit it, and email it to us separately if you decide so.
Client General¶
General configuration specific to the client.
.ui.AlwaysLoadFragments¶
Determine if unit fragments that support lazy loading should be loaded lazily or eagerly. Not all fragments support lazy loading (an example is the Strings fragment for code units).
.ui.AutoAutoDefaultUnit¶
Self-explanatory.
.ui.AutoSavePeriod¶
Currently not honored
.ui.ConsolePartSync¶
Self-explanatory.
.ui.DoNotReplaceViews¶
Self-explanatory.
.ui.ExpandTreeNodesOnFiltering¶
Self-explanatory.
.ui.LoggerMaxLength¶
Self-explanatory.
.ui.ModelLayoutRestorationPolicy¶
Determine how and if the UI state (most notably, the state of your layouts) can be saved and restored when the client persisted state is reset. Custom, back-up persistence is done via jeb-layout.xml.
0: model restoration via is disabled. That means that model persistence is handle by traditional client mechanisms only, and will never be maintain across updates requiring a UI state reset.
1: model restoration will be enabled only if the client persisted state was previously cleared as a one-shot operation. This is the default recommended setting for release builds, as it generally allows a UI state conservation across client model updates.
2: model restoration triggers every time the client persisted state is cleared. This setting is not recommended for non-debug builds.
.ui.NavigationBarPosition¶
TODO
Text Views¶
Client properties related to interactive text views.
.ui.text.AllowLineWrapping¶
TODO
.ui.text.CaretBehaviorViewportStatic¶
TODO
.ui.text.CharactersPerLineAtEnd¶
TODO
.ui.text.CharactersPerLineMax¶
TODO
.ui.text.CharactersWrap¶
TODO
.ui.text.PageLineSize¶
TODO
.ui.text.PageMultiplier¶
TODO
.ui.text.ScrollLineSize¶
TODO
.ui.text.ShowVerticalScrollbar¶
TODO